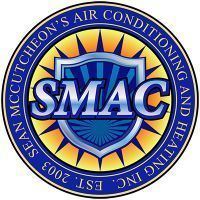 Bottom Line: New energy efficiency standards for air conditioners, heat pumps and furnaces are going into effect this January 1, 2023 and that means air conditioning prices are going up so, if you're about due for a new air conditioning system, there's really no time like the present!
If you've purchased an air conditioning unit in the past 30, you've probably noticed the big yellow sticker labeled "ENERGY GUIDE" that points down to an "Efficiency Rating" or SEER.
SEER (which stands for Seasonal Energy Efficiency Ratio) is the ratio of cooling output (the BTUs) of a particular HVAC system, over a typical cooling season, divided by the electricity input (the watt hours) used in the same time period. Similar to your vehicle's MPG rating, the higher the SEER rating, the more energy efficient the air conditioning unit.
The Department of Energy (DOE) has enforced minimum SEER requirements since 1992, but starting January 1, 2023, they're changing the way HVAC systems are tested.
Why are they changing the way HVAC systems are tested now?
Well, just like your MPG ratings, SEER ratings are affected by real-world conditions (you're probably not getting the MPG rating on the window sticker if most of your driving is in stop-and-go traffic).
Current SEER testing does not accurately reflect real-world conditions (like poorly designed ductwork). SEER2 uses a new testing procedure that more accurately reflects real-world conditions and it demands a lower energy efficiency rating so, essentially, you have to get a better grade on a harder test.
What does that mean for my new air conditioner?
The DOE divides the U.S into 3 regions (North, Southeast, and Southwest). In the Southwest and Southeast regions, which includes Florida, all air conditioners sold and installed on or after January 1, 2023 must meet the new SEER2 efficiency standards.
To meet SEER2 requirements in the Southeast Region, residential central air conditioning systems below 45,000 BTUs must have a SEER2 rating of 14.3, residential systems with 45,000 BTUs or more must have a SEER2 rating of 13.8, and heat pumps (in all regions), must have a SEER2 rating of 14.3.
More efficient units are more expensive to manufacture which means that prices will be going up in 2023. Carrier, York, and Lennox have already told us that their prices are going up in the spring of 2023, but these changes affect all manufacturers, so price increases are inevitable – across the board.
If you're about due for a new air conditioning system, call 941-921-7208 (while you can still get 2022 units and prices) and let one of our comfort consultants walk you through all your options.